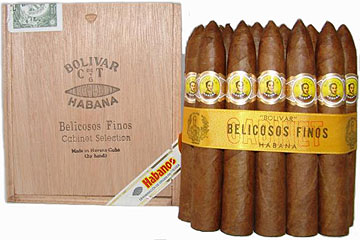 Shape :
Belicoso
Dimension :
Length: 140 mm (5 1/2")
Diameter: 20.64 mm
Ring gauge: 52
Presentation :
Indispensable in every Connoisseur?s humidor, it?s our favourite Belicoso (Campana).

Before Lighting up: Spicy and earthy, with a salty taste on lips.

Burning: Earthy and spicy notes are dominant without being overpowering.
In the second third, the smoke becomes more rich and complex with a shadow of a black honey taste.

Final: The Bolivar Belicoso has an exquisite final.
The full earthiness is combined with unsettled Cuban cedar notes, and a powerful dark pepper taste.
The final may be slightly overwhelming for a beginner.
Price: POA - 25 sticks in a box. We will try and beat any written quote.